Arsène Wenger rails against television influence on fixtures schedule
• Arsenal face Everton, Napoli, Manchester City in seven days
• 'The TV stations don't care when you have played' – Wenger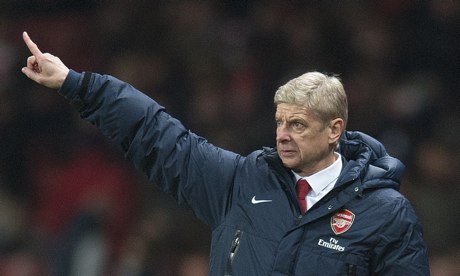 Arsène Wenger
has called for the introduction of an ethics committee to arbitrate on the fairness of fixture scheduling as he railed against
Arsenal
's treatment in the buildup to a defining week.
Arsenal face
Everton
at 4pm on Sunday and travel to
Manchester City
for the 12.45pm kick-off on Saturday, the tightest turnaround from one weekend to the next. The problem, however, is that they must visit Napoli on Wednesday for their final
Champions League
Group F match, with their progress in the competition not certain.
If they were to lose by three goals and Borussia Dortmund beat Marseille in France, Arsenal would exit with 12 points, which would be tough to take. Accordingly the Arsenal manager has a difficult decision concerning the composition of his team in Naples. The squad will arrive home in the small hours of Thursday and travel to Manchester on Friday. It would be a risk to rotate players wholesale against Napoli and Wenger is not a gambler.
His ire, though, was directed at the television companies that, he says, have total control over when the Premier League's matches are played. It was implicit in his criticism that he felt the football authorities lacked the strength to stand up to them, hence his demand for independent outside help.
"I would like that there is an ethics committee who looks if the clubs are in the right position and have the right protection for English football to do well," Wenger said. "It is a fact the way football is sold that every television [station] has its own rights. They don't care when you have already played. They think: 'Is it a nice time to play on Saturday morning this game between Arsenal and Man City? OK.' They don't look to see if we played on Wednesday. The way football is sold does not protect you."
It was put to Wenger that other national associations sought to help the teams that played in European competition. "We give handicaps," he said. "We play Wednesday night and then Saturday morning. If you are responsible for Arsenal Football Club, you would not say: 'I want to play on Sunday, Wednesday, then Saturday morning.'"
Wenger did muster a little gallows humour. "That [the ethics committee] is ideal but I do not even like to speak about it any more because people say: 'You make excuses.' I don't want to do that. We can do nothing, so I shut my mouth and just try to win the next game. That is what I have learned in 17 years: shut up and play."
Wenger can smile at the moment and it was tempting to think that, if his biggest gripe was the Arsenal schedule, then he has got it good in comparison with recent seasons. After City the club face Chelsea at home on Monday 23 December and they will know much more about their capacity to win the title after the period. They enter the Everton game on top of the table.
"It is massively demanding because we have big games and, mentally as well, we want to be at a level to concentrate every time we turn up, with the top level of commitment," Wenger said. "That is a big challenge for us."
Wenger said Lukas Podolski had trained fully on Friday for the first time since tearing a hamstring on 27 August and the forward could be in contention for the City game. "He is fully fit, he just lacks competition," Wenger said. "One week? Yes."
Fuente The Guardian
Al igual que aca Arsene Wenger, entrenador del arsenal critico alas estaciones de TV, hallado a que s introduzca un comité de ética para arbitrar para hacer el fixture. Arsenal juega con el Everton el domingo a las cuatro de la tarde, y viajar a Manchester para jugar con el City el sábado y el miércoles juega con el Napoli por la champion. Nosotros damos ventajas, jugamos el miércoles en la noche y luego el sábado por la mañana. Wenger dijo que le gustaria que haiga un comité de ética para que vea si los clubes están en la correcta posición y la correcta protección en el futbol ingles.es un hecho que al manera de que el futbol es vendido, que cada estacion de TV tiene sus propios derechos.
ellos son les importa cua ya has jugado. Ellos piensan , es un bonito tiempo para que el Arsenal juegue con el Manchester City. Ellos no miran que tu has jugado el miércoles.la manera en que el futbol es vendido no te protege.noostros damos ventajas, jugamos el miércoles en la noche, luego sábado en la mañana.
El comité de ética es lo ideal pero yo no quiero aun hablar de ello. La gente dice tu lo que haces es excusarte, Yo no quiero hacer eso. Nosotros no podemos hacer nada, por lo tanto me callo la boca, y trato de ganar el próximo juego. Eso es lo que yo he aprendido en 17 años, callarme y jugar.
Es masivamente demandante porque tenemos grandes juegos, y mentalmente queremos estar al nivel de concentracion cada vez que nos toque, con el máximo nivel, dijo Wengger, Es un gran reto para nosotros.